From the same great minds that brought you the Black By Popular Demand collection, comes... BLACK WITH A VENGEANCE. An MJJ Made collection of DLC-treated luxury watches that sport a military-themed style and stealth swagger.
Black With A Vengeance is a limited edition, custom-made collection of 40 pieces that sits within the MJJ BLACKOUT range. Only 10 pieces of each of the 4 Rolex models are to be released. With the engraving of the limited edition number out of 10 on the reverse of the watch case.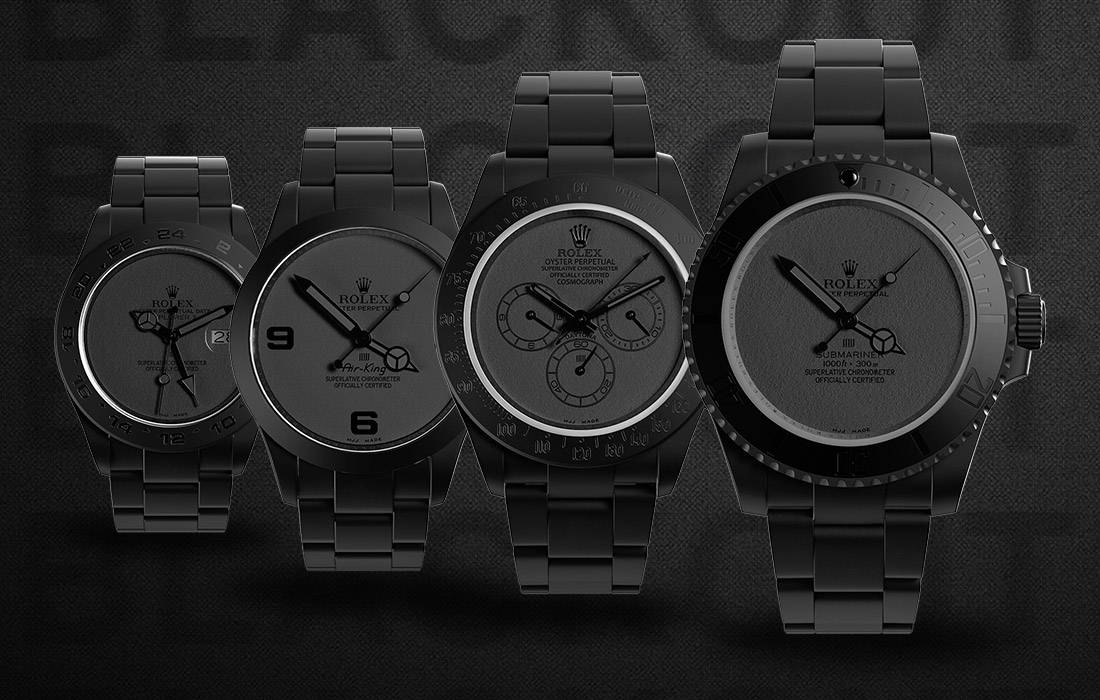 Each watch in the collection is named after the military machine that inspired its design:
ROLEX AIR KING "NIGHTHAWK"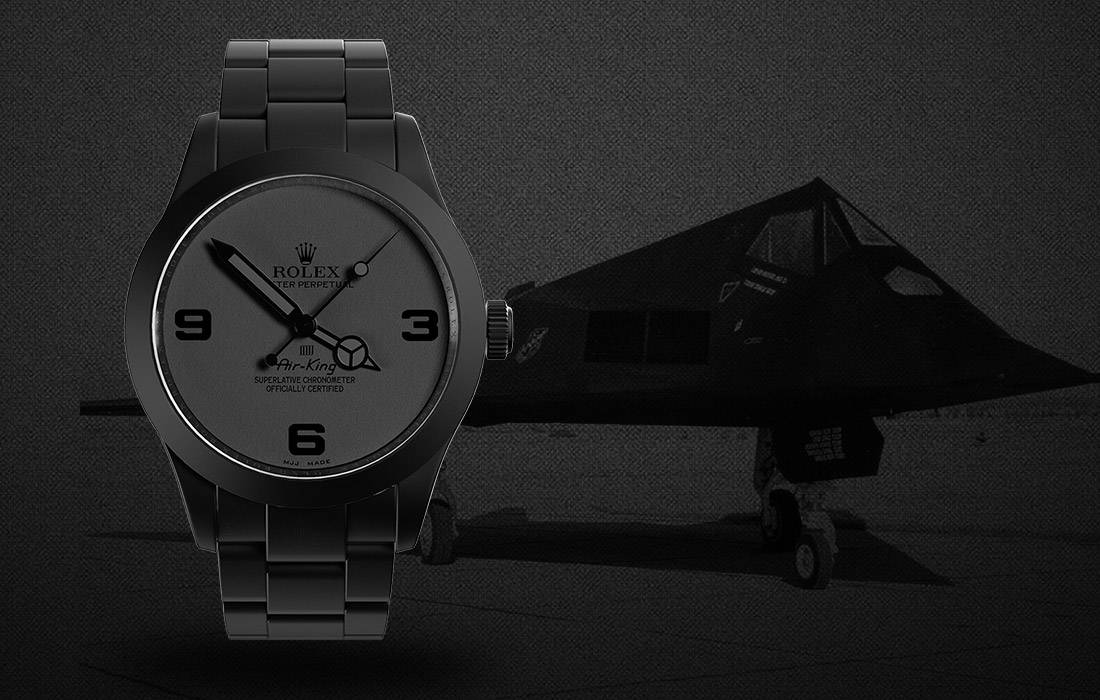 Lockheed F-117 Nighthawk - A single-seat, twin-engine jet fighter-bomber known for its radar-evading stealthiness.
The first stealth attacker created that could avoid radar detection. With a triangular outline, sharp angled wings, and a surface composed of many flat planes - angled to reflect radar waves away from their transmitter. Surface coatings of radar-absorbing material further reduced radar detection so that a Nighthawk showed up no larger than a common marble on a radar scan.
ROLEX EXPLORER II "ARMAGEDDON"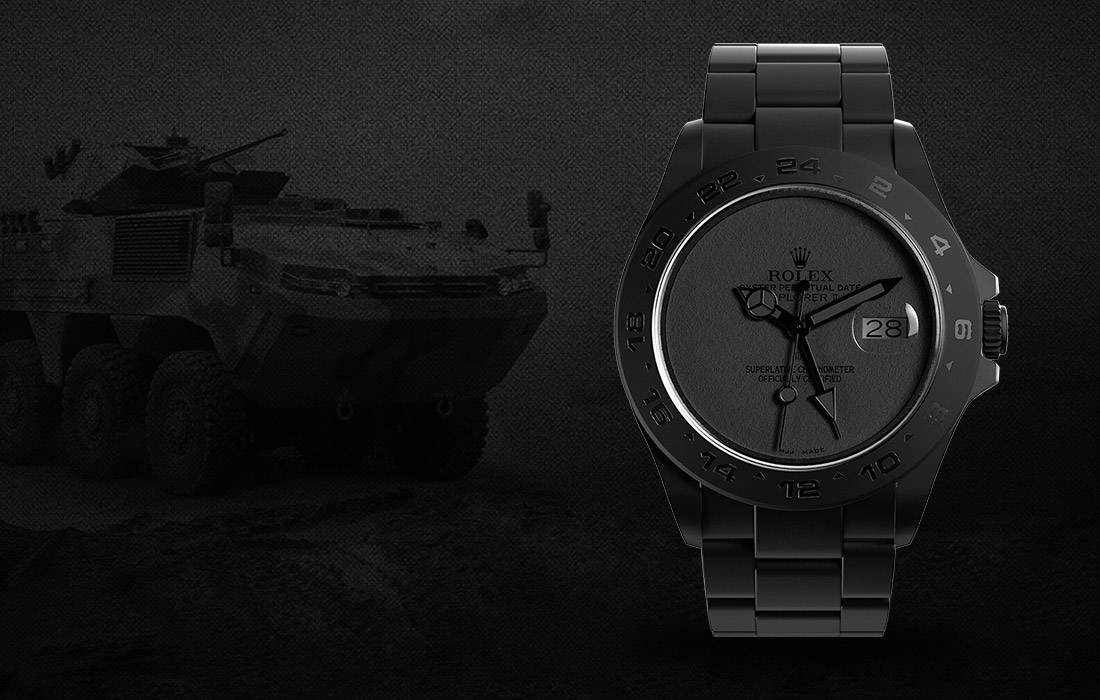 Arma - A 6x6 or 8x8 amphibious and configurable armoured combat vehicle. With high level ballistic and mine protection due to its high hardness monocoque steel hull.
Being a modular multi-wheeled vehicle that can run on land and sea, ARMA boasts superior mobility. As well as high mine and ballistic protection, due to its hardened monocoque steel hull. And a wide range of weapon integration options. All meaning that ARMA is capable to serve in the most difficult terrain and climatic conditions.
ROLEX SUBMARINER "VENGEANCE"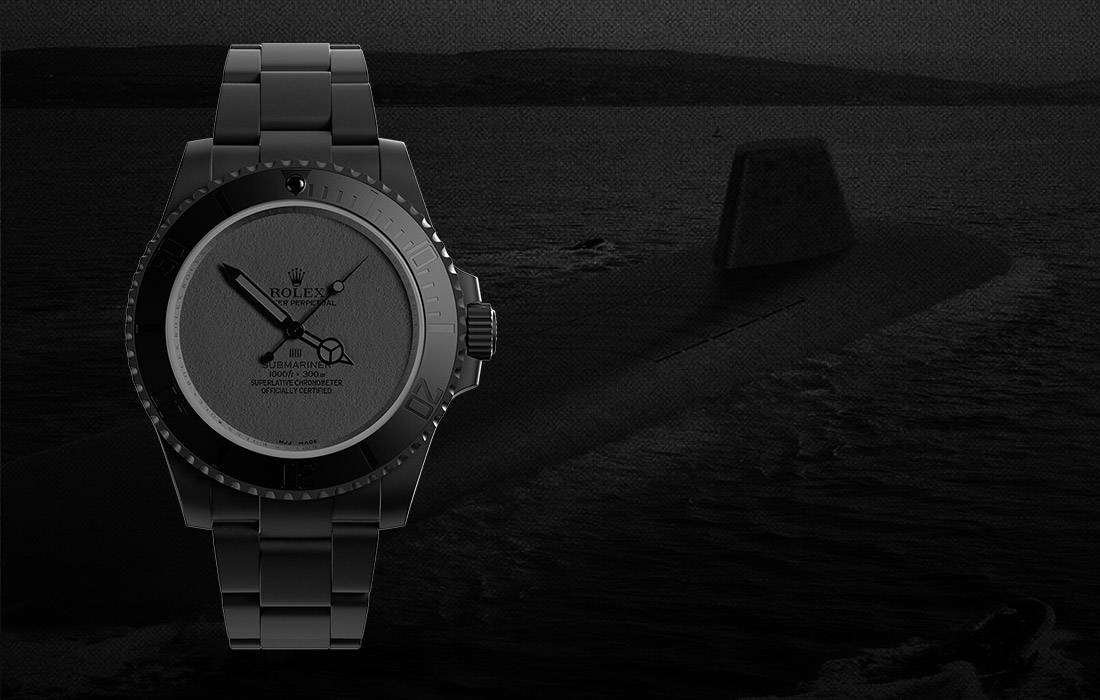 Equipped with thermonuclear warheads, HMS Vanguard is a nuclear-powered submarine whose role is to carry the Trident ballistic missile system.
Shrouded in mystery, due to the secret nature of Vengeance's mission, little is known about its whereabouts and activities. And with constant power and the ability to produce its own water and oxygen, Vengeance's patrols could, in theory, last for months or even years at a time without the need to surface.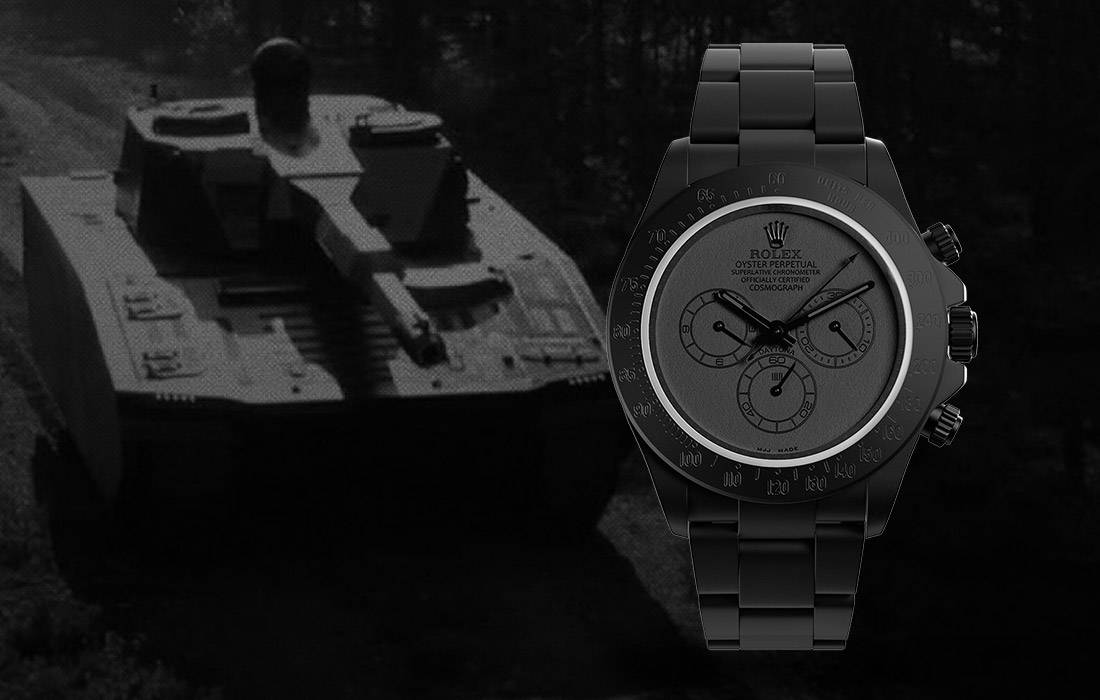 CV90120-T "Ghost" is the latest version of the CV90120-T medium tank (as described by BAE Systems).
It features a new Compact Tank Gun and BAE Systems latest camouflage technology - ADAPTIV. A modular system of cell-shaped armour that enables the projection of images and thermal heat, allowing the tank to mimic its surrounding settings and objects. This camouflage has proven so effective at making the vehicle invisible to hostile thermal and imaging systems that international media has the dubbed the CV90120-T - "Ghost".
---
---
Each of the watches in the Black With A Vengeance collection boasts an MJJ Made bespoke dial that has been designed and created in-house, for the ultimate covert front.
And the bracelets, clasps, cases and shoulders have been custom treated with a DLC treatment in a matte black finish.
"Our new BLACKOUT collection has been a year in the making. From the R&D stage, through to the creation and quality testing, we've taken every precaution, every innovative step to create the best DLC coated collection on the luxury watch market.
- Or at least we think it is, because MJJ's brand DNA has been infused into every single aspect of each watch"
Matthew Jones - Founder & CEO of MJJ Exclusive