Choosing diamond jewellery isn't easy, but we're here to make it hassle free.
Everything you need to know about diamonds is covered in our short MJJ's Quick and Easy Guide To Diamonds series. So put the kettle on or grab a beer, put your feet up, and you'll be ready to check out in no time.

MJJ'S QUICK GUIDE TO DIAMOND SHAPES

The difference between the shape and cut of a diamond =
Diamond Shapes = The outline of the diamond.
Diamond Cuts = The depth, facets, dimensions, symmetry and reflective properties of the diamond.
So, for example, a round diamond can have the same cut as a pear diamond, even though they are different shapes.
The cut of the diamond will determine its brightness, due to the mechanics of the dimensions, symmetry and facets, and how light is reflected between these. Because of this, diamonds often take on the shape that allows the best cut.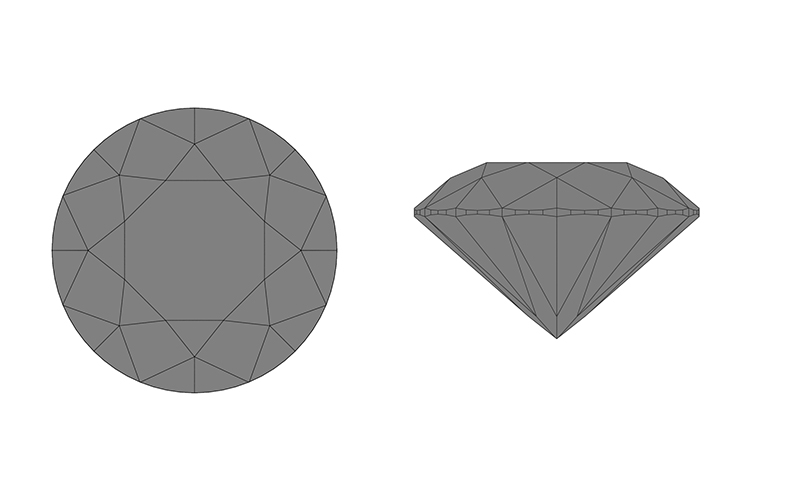 SHAPE: A circle when viewed from above, with a pointed tail underneath. The round brilliant shape is the globally iconic diamond shape.
MOST POPULAR RING DESIGN: Solitaire: Solitaire rings set with claws allow an incredible amount of light to be drawn into a round brilliant diamond. Creating incredible brilliance and making a powerful statement. Halo: A halo of smaller stones surrounding a round brilliant diamond can draw in even more light, making the centre stone appear larger.
HISTORY: Round brilliant diamonds were first introduced in 1919, by Marcel Tolkowsky. He used advanced mathematical concepts to create a shape that would maximise the brilliance and sparkle of a diamond.
POPULARITY: The round brilliant is the most popular diamond shape and has enjoyed consistent popularity since its introduction. This is because round brilliant diamonds "sparkle" the most.
ROUND BRILLIANT CELEBRITY ENGAGEMENT RINGS: Kate Upton, Natalie Portman, Mila Kunis.
PICK A ROUND BRILLIANT DIAMOND FOR: Lovers of sparkle, bling and the iconic classic.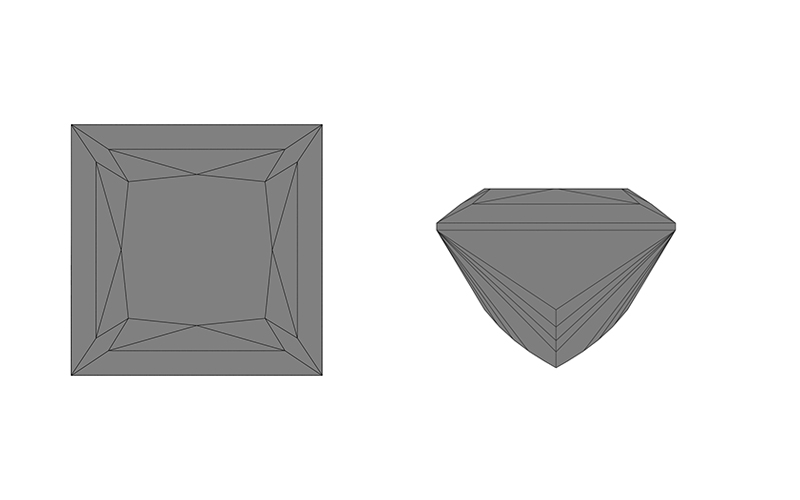 AKA: Square

The modern classic
SHAPE: A square (sometimes slightly rectangular) when seen from above. With a rounded tail.
MOST POPULAR RING DESIGN: Solitaire with pavé diamond band: A princess diamond is enhanced when it's set with 4 claws onto a band with smaller pavé diamonds that bounce light into it. Trilogy: Due to the square shape, princess diamonds can look larger and make a big impact when set in three stone rings. Tension: Tension settings allow an incredible amount of light to be drawn into a princess diamond for a breathtaking brilliance.
HISTORY: The shape was first created in 1961, but was named the profile. This name didn't stick and the shape became known as the princess in the 1980's.
POPULARITY: The princess is the second most popular diamond shape. Though its popularity was at its peak during the 1980s-2000s.
PRINCESS CELEBRITY ENGAGEMENT RINGS: Emily Ratajkowski, Hilary Duff, Kate Bosworth.
PICK A PRINCESS DIAMOND FOR: Lovers of sparkle and bold shapes who want a more modern look.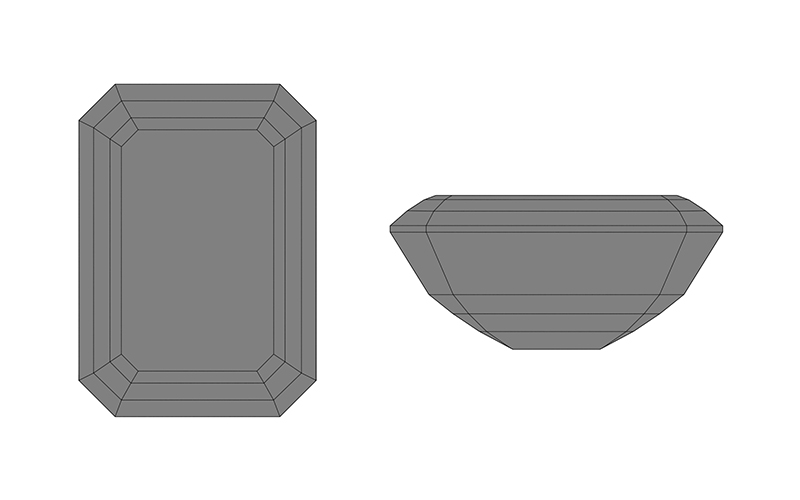 SHAPE: A rectangle with cropped corners when viewed from above, with a flattened tail underneath.
MOST POPULAR RING DESIGN: Solitaire: Emerald diamonds have elongated sides, creating an impressively large surface. So they look great when set as a solitaire stone with either a tapered baguette either side, or split-shoulders to draw in further light.
HISTORY: The emerald shape is one of the oldest gem shapes, with roots dating back to the 1500s. It was originally developed for emeralds (hence the name). But, as the shape reduced the pressure during the cutting process, preventing chips in the gems, diamond experts soon took notice and copied the shape.
POPULARITY: Emerald diamond rings were most popular in the Art Deco era of 1910-1939 due to the admiration of clean lines and symmetry.
EMERALD CELEBRITY ENGAGEMENT RINGS: Beyoncé, Jennifer Lopez, Grace Kelly.
PICK AN EMERALD DIAMOND FOR: Someone who loves elegant, vintage glamour.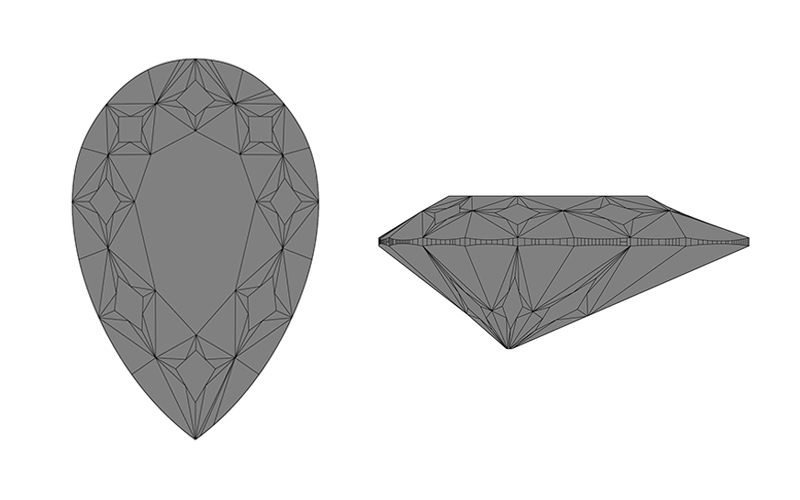 AKA: Teardop
Sophisticated risqué

SHAPE: A combination of the round and marquise shapes. A pear diamond is essentially a round brilliant with an extended side, so that when seen from above it has the iconic shape of a teardrop or pear.
MOST POPULAR RING DESIGN: Halo or Double Halo: Cardi B's engagement ring proves that more is more when it comes to halos around a pear diamond. Solitaire: The unusual shape of a pear diamond is attention-grabbing. So a solitaire setting can really show it off. Bezel: For those who want a unique and eye-catching design with an active lifestyle, a bezel setting is the most secure. A thin band of solid metal surrounds the pear diamond.
HISTORY: Pear diamonds date back to 1458 and were first introduced by the Flemish polisher Lodewyk van Berquem, some of whose innovative diamond cutting technology and polishing methods are still in use today.
POPULARITY: Pear diamond engagement rings are becoming more common and are pretty hot in Hollywood right now.
PEAR CELEBRITY ENGAGEMENT RINGS: Ariana Grande, Sophie Turner, Cardi B, Margot Robbie.
PICK A PEAR DIAMOND FOR: Those with a unique taste.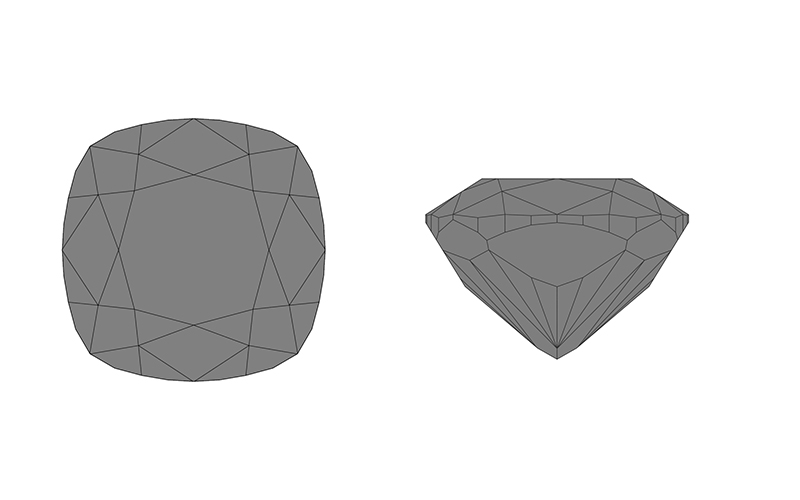 AKA: Old mine cut
Old World Charm

SHAPE: A square or rectangular shape with rounded corners, much like a pillow. The tail below is pointed.
MOST POPULAR RING DESIGN: Solitaire: To show off the unusual shape of a cushion diamond. Vintage and antique designs: The old-worldly feel of cushion diamonds mean they look amazing when set into vintage and antique inspired designs, usually with a lot of detail added to the trellis, shoulders and band. Halo: Halos give a cushion diamond a really flashy brilliance. Bezel: A bezel set cushion diamond is a very contemporary look. The bonus is that it's the most secure setting, but the con is that it can block light entering the diamond, reducing its brilliance.
HISTORY: Before it became the cushion shape of today, the unrefined shape was known as the mine cut. Named after the Brazillian diamond mines, which came to be known as the old mines when diamonds were discovered in South Africa.
POPULARITY: Due to the ease of the cutting process and the reduced wastage of the stone, cushion shape diamonds held the highest popularity until the early 20th century. And their popularity is on the rise once again, making cushions one of the most popular shapes for engagement rings these days.
CUSHION CELEBRITY ENGAGEMENT RINGS: Miley Cyrus, Gabrielle Union, Meghan Markle.
PICK A CUSHION DIAMOND FOR: Lovers of old worldly romance.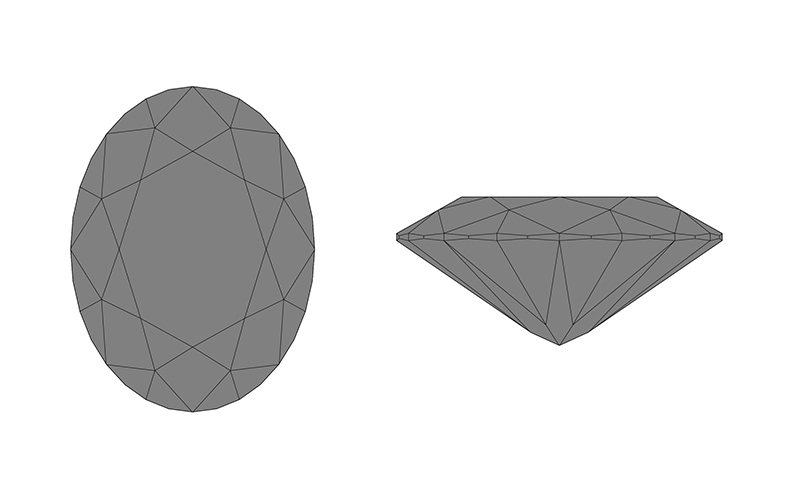 SHAPE: An oval shape from above. With a pointed tail below.
MOST POPULAR RING DESIGN: Solitaire: When an oval diamond is cut in the brilliant style, it can rival a round brilliant in its fire. So, solitaire settings with 4-6 claws are really popular with those after both amazing bling and a bold, showy size. Half bezel: Metal encircles half of the oval diamond, providing security but also allowing the diamond to draw in light on the open sides.
HISTORY: The earliest recorded oval diamond dates back to the 1300s. Though the shape wasn't perfected until 1957, when the Russian diamond cutter Lazare Kaplan introduced a cutting technique that significantly improved the brilliance of the oval diamond and is still used today.
POPULARITY: The oval has been one of the most consistently popular shapes throughout the history of engagement rings and is currently a hot trend in Hollywood.
OVAL CELEBRITY ENGAGEMENT RINGS: Blake Lively, Hailey Baldwin Bieber, Miranda Kerr.
PICK AN OVAL DIAMOND FOR: Lovers of bling who want a statement-size diamond.
AKA: Navette
Gracefully sensual

SHAPE: Inspired by the sensual shape of lips, marquise diamonds are also often called navette diamonds because of their small boat shape. From above they appear like an oval shape with pointed ends. With a wide pointed tail below.
MOST POPULAR RING DESIGN: Bezel: Although it reduces the stone's brilliance by blocking the light from being drawn in, bezel set marquise diamonds engagement rings have grown in popularity for their security. Solitaire: Marquise diamonds usually require 6 claws to keep the tips protected, but this still allows light to be drawn in for maximum fire. Halo: To enhance the classic, vintage spirit of a marquise diamond, surround it in a halo setting. The smaller stones will increase the sparkle and make the marquise diamond appear larger. Split Shoulders: Can enhance the romantic, elegant and regal feel of the marquise shape.
HISTORY: The marquise has probably the most famous origin story of all gem shapes. King Louis XV of France (1710-1774) commissioned a jeweller to create a new stone shape modelled on the lips of his mistress, Jean Antoinette Poisson, the Marchioness Madame de Pompadour.
POPULARITY: Not many people think to look for marquise diamonds when shopping for engagement rings, which means they aren't seen often. But with a long, narrow shape they sit perfectly on the finger for an elegant look. Meaning you may have just found the industry's best kept secret.
MARQUISE CELEBRITY ENGAGEMENT RINGS: Catherine Zeta Jones, Victoria Beckham, Portia de Rossi.
PICK A MARQUISE DIAMOND FOR: Sensual souls; Lovers of jewellery with history; Those with an active lifestyle; Anyone who wants a slender, elongated finger.
SHAPE: A modification of a pear shape. Viewed from above, a heart shaped diamond resembles the iconic shape of a love heart. Underneath it has a pointed tail.
MOST POPULAR RING DESIGN: Solitaire: Claw-set solitaire designs are popular with heart shaped engagement rings for the same reasons they are with all shapes, claws allow light to be drawn into the diamond and highlight its brilliance, while the solitaire design brings attention to the truly unique shape. Bezel: Emphasize the heart shape of the diamond greatly, as well as protecting the stone with the metal rim, but reduce the light taken in, dulling its brilliance.
HISTORY: The heart shape was first recorded in the late 15th century and was originally associated with royalty. To this day it remains one of the most expensive and difficult shapes and can only be created by the most skillful diamond professionals.
POPULARITY: Contrary to popular belief, heart diamond engagement rings are very rare. But this doesn't mean they're unpopular, it could be due to the difficult design. Especially as recent years have seen the popularity of celebrity heart diamond engagement rings soar.
HEART CELEBRITY ENGAGEMENT RINGS: Lady Gaga, Nicki Minage, Gwen Stefani.
PICK A HEART DIAMOND FOR: The romantics who like something a little different and those who appreciate the technical skill of diamond shaping.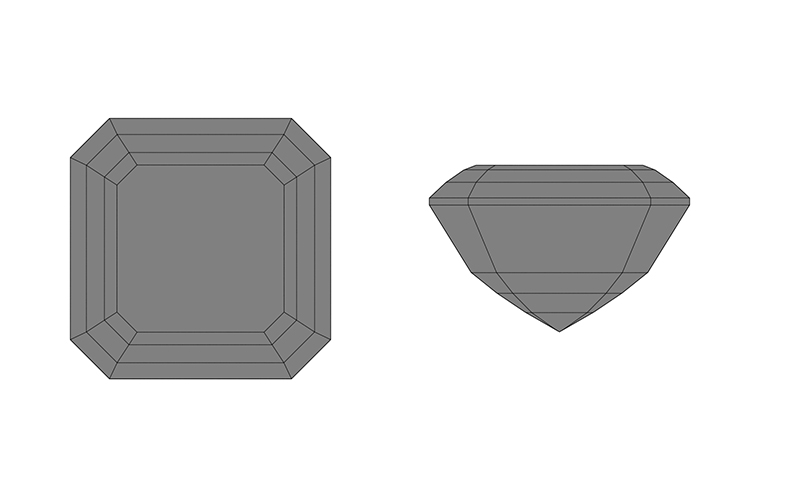 SHAPE: Similar in shape to the square emerald, the modern asscher is a rounded square with cropped corners. And a pointed tail tip underneath.
The colour and clarity really make an asscher. A stone with a colour below D or a clarity below SI1 will appear dull. But an asscher of the highest quality has awesome fire and brilliance. Perfect asscher diamonds are renowned for a "hall of mirrors" effect.
MOST POPULAR RING DESIGN: Halo: The brilliance of an asscher diamond is enhanced to a peerless level when surrounded by a halow of smaller stones that induce a spectacular sparkle. Trilogy: Other unusual shapes like trillions and pear can really complement a central asscher diamond. Vintage and antique: Asscher diamonds really make a statement when set into a vintage or antique-style band.
HISTORY: The asscher shape was invented in 1902 by the artisan diamond exert Joseph Asscher, founder of the I.J Asscher Diamond Company (now the Royal Asscher Diamond Company). It was the first patented diamond shape, protecting it from replicas until this ran out during WW||.
POPULARITY: Asscher diamonds were a favourite during the Art Deco era with the bold shape and clean long lines. They then became a bit of a rarity for a while but are gaining popularity again.
ASSCHER CELEBRITY ENGAGEMENT RINGS: Gwyneth Paltrow, Jessica Alba, Zooey Deschanel.
PICK AN ASSCHER DIAMOND FOR: Those who like to stand out and be set apart with a unique style.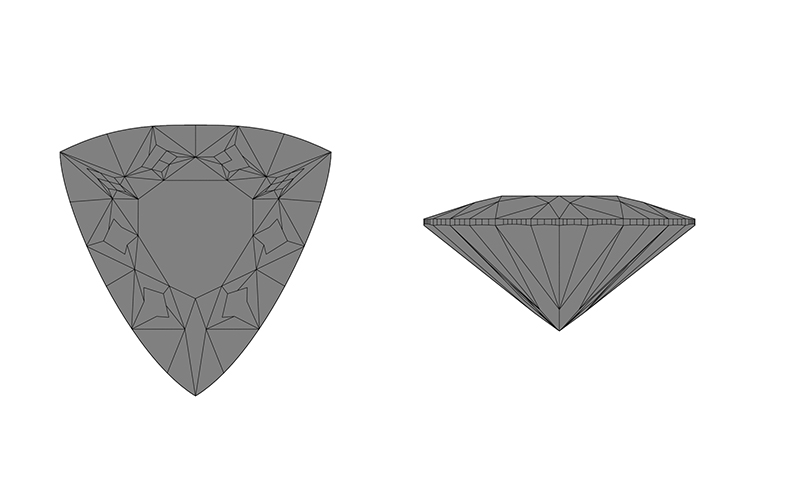 SHAPE: A triangular shape with 3 equal sides, often curved. And a pointed tail underneath.
MOST POPULAR RING DESIGN: Bezel: The truly unique trillion shape is highlighted and complemented by a bezel setting. Side stones: Trillion diamonds are often used as accent stones to enhance the brilliance of the centre stone as they fit to the shoulders of a ring perfectly. Solitaire: Because of its striking brilliance, trillion diamonds are show-stealers as solitaire stones on a band.
HISTORY: The history of triangular brilliant diamonds isn't as clear as other shapes, but it's commonly believed they originated in Amsterdam in the 18th century. The trillion as we know it was trademarked in 1962 by the Henry Meyer Diamond Company of New York. And soon after, all triangular brilliant diamonds took on the same name.
POPULARITY: Trillion brilliants don't share the same popularity levels are their round brilliant counterparts. But the demand for trillions is growing fast with modernists who like a contemporary alternative, without compromising on the brilliance and fire.
TRILLION CELEBRITY ENGAGEMENT RINGS: Trillion diamonds are set as side stones in the engagement rings of Salma Hayek, Jennifer Garner, Elizabeth Hurley, and Vogue Williams.
PICK A TRILLION DIAMOND FOR: A one-of-a-kind person with a truly unique, modern style.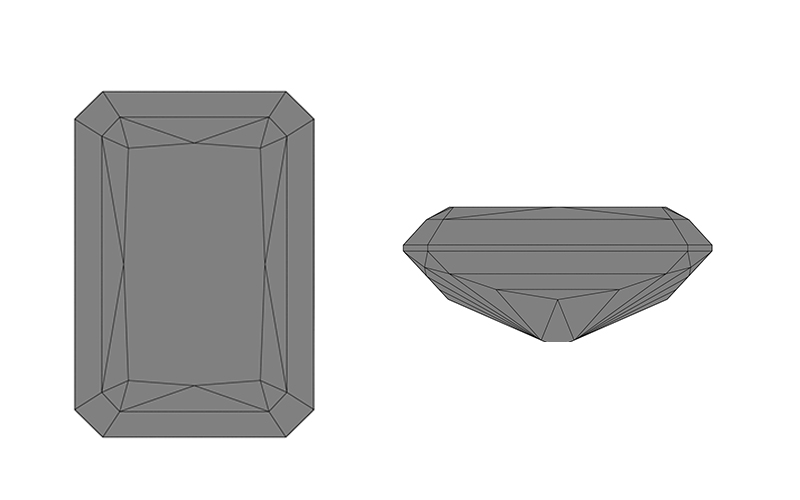 SHAPE: A rectangular shape with clipped corners and a pointed tail below. Square radiants have been seen, but are very rare.
MOST POPULAR RING DESIGN: Solitaire: Radiant diamonds are a hybrid, combining the cut styles of round and emerald stones to create incredible brilliance, so make a bold statement in a solitaire design. Side stones: For endless sparkle, place baguette and trillion side stones.
HISTORY: Henry Grossbard, an Austrian who became a master diamond cutter in New York, spent 30 years researching diamond cuts in order to create a diamond that "retained the shape of a traditional emerald cut, but infused it with the brilliance people expected of their diamonds". He finally realised his dream in 1977, with the radiant.
POPULARITY: The radiant is one of the most in demand shapes for elegant engagement rings with a modern, sophisticated look and unrivalled brilliance and fire. It's only less known to its round brilliant counterpart due to it being a relatively new shape.
RADIANT CELEBRITY ENGAGEMENT RINGS: Khloe Kardashian, Drew Barrymore, Anna Kournikova, Megan Fox.
PICK A RADIANT DIAMOND FOR: Lovers of extravagant and lavish luxury, and the attention only big, bold jewellery can bring.
Now that you're an expert with diamond shapes, head over to our Diamond Jewellery Collection to pick out your next piece. Or check out our other posts in our Quick And Easy Guide To Diamonds short series below.