Getting engaged? After something a bit more glamorous than the standard engagement ring?
Well, you might not be a royal or celebrity, but proposing with a ring inspired by one of these will have them feeling like a true superstar … Guaranteeing you a "YES!"
CELEBRITY ENGAGEMENT RINGS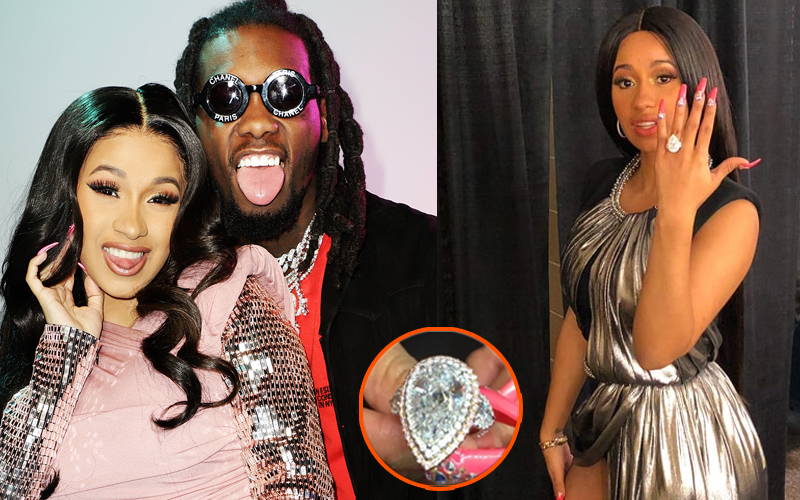 The ring - An 8-carat pear central diamond, surrounded by a 2-carats double halo of diamonds, with a 1-carat pear stone either side. Set on either a white gold or platinum band.
Price - Thought to be worth $500,000.
The proposal - Just hours after the ring was made, Offset proposed to Cardi B in front of a crowd of fans at Power 99's Powerhouse concert. But the twist was that they'd already been secretly married for 3 weeks. Despite this, Cardi B flashing the custom made engagement ring on Offset's Instagram story almost broke the internet.
Tip for proposing to a Cardi B fan - The inner halo ring is entirely clear diamonds, while the outer ring is pink diamonds. Pink diamonds are so rare that less than 0.01% of all diamond carats mined are quality pink diamonds. And they add the perfect feminine feel.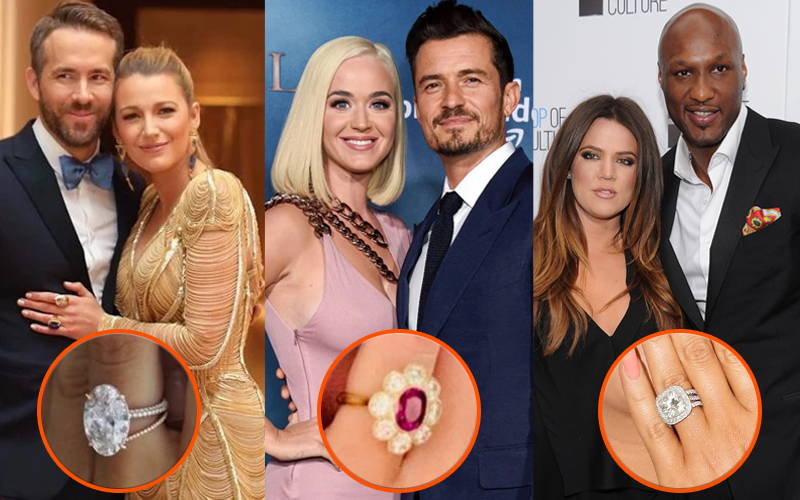 OTHER FAMOUS HALO ENGAGEMENT RINGS
LEFT - RIGHT
Blake Lively - Ryan Reynolds - A super-rare 7-carat pink oval diamond, secured by four claws onto a 14-karat rose gold pavé band. Priced at $2 million. -- Thought to be the first celeb rose gold engagement ring, Blake Lively and Ryan Reynolds started a bridal trend that's still in full force.
Katy Perry - Orlando Bloom - A 2-carat oval ruby, surrounded by a diamond halo of 2.5-carat clear diamonds, set onto a yellow gold band in the unusual shape of a flower for the estimated cost of $5 million.
Khloe Kardashian - Lamar Odom - 12.5-carat ring worth $850. A radiant centre stone surrounded halo of clear diamonds and set onto a pavé band.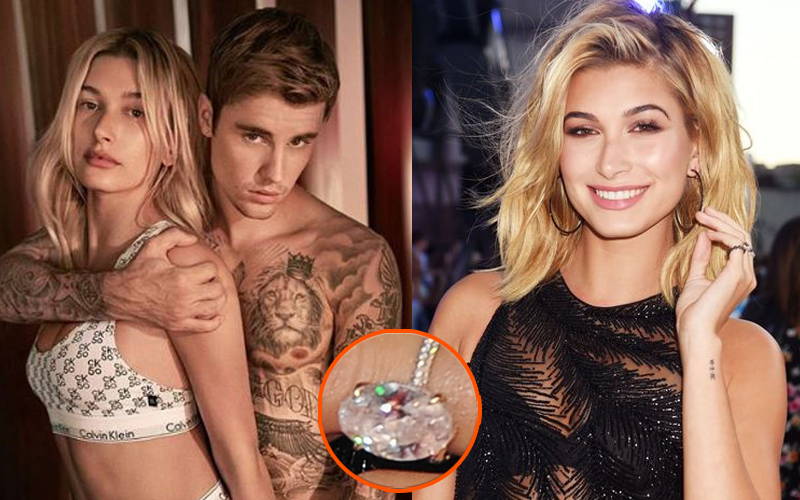 HAILEY BALDWIN BIEBER - JUSTIN BIEBER
The ring - Solitaire oval diamond, reported to be somewhere between 6 to 10-carats, set onto an 18-karat yellow gold band.
Price - Reportedly worth $500,000.
The design - A solitaire oval diamond, exceptional in its length, was chosen to accentuate Hailey's beautiful hands. With videos sent to his team, Bieber oversaw the making of the hefty ring.
Tip for proposing to a Belieber: On its completion, when looking into the diamond with a loop (magnifying instrument), Bieber apparently said he saw Hailey's face … A fact that probably scored him a few romantic points.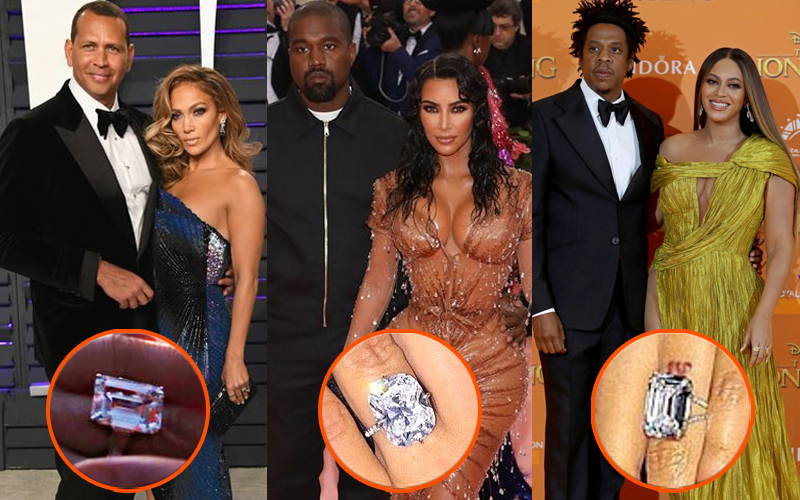 OTHER FAMOUS SOLITAIRE ENGAGEMENT RINGS
LEFT - RIGHT
J-Lo - Alex Rodriguez - A solitaire emerald diamond, estimated to be anywhere between 10 to 20-carats and $1-5 million.
Kim Kardashian - Kanye West - Kim's first engagement ring from Kanye was a 15-carat cushion solitaire diamond set onto a pavé band. Estimated to be up to $3 million.
Beyonce - Jay Z - A flawless 18-carat emerald diamond set on a split shank platinum band. Estimated at £3.8 million.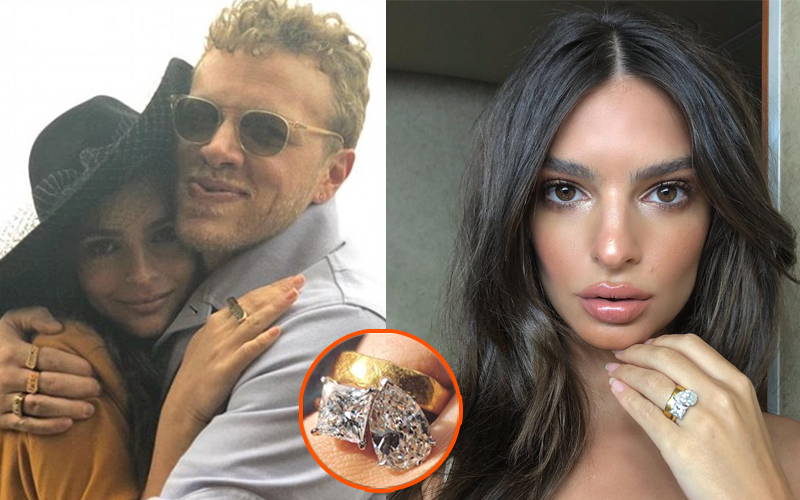 EMILY RATAJKOWSKI & SEBASTIAN BEAR-MCCLARD

The ring - A 2-carat princess diamond, paired with a 3-carat pear diamond on a gold band.
Price - Worth an estimated $50,000 to $90,000
The proposal - He might have used a paperclip for the proposal, but Sebastian upgraded Emily's engagement ring to a unique two-stone stunner. For their wedding rings, they found a bar of gold in Chinatown, New York. Then went in search of a jeweller who melted and hammered it into two bands in Midtown, the same night.
Tip for proposing to an Emrata fan - If you want a more DIY style engagement and wedding ring, like Emily, we offer a bespoke service where you're supported and involved in the design and every decision throughout the journey.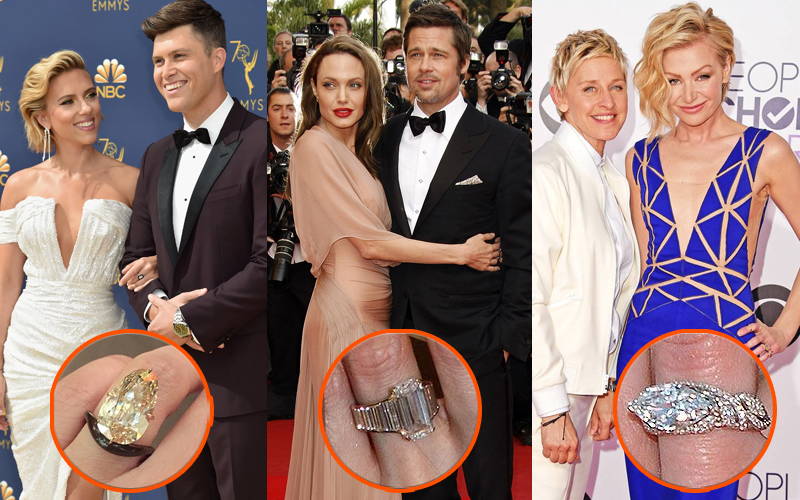 OTHER FAMOUS UNIQUE ENGAGEMENT RINGS

LEFT - RIGHT
Scarlett Johansson - Colin Jost - An 11-carat pear shaped yellow diamond set onto a black band. Estimated to cost $400,000.
Angelina Jolie - Brad Pitt - Costing $250,000 and a year to be designed. An emerald center stone with trapezoid side diamonds extending down both sides of the band to encircle Jolie's finger.
Portia de Rossi - Ellen Degeneres - A 3-carat horizontal, claw-set, marquise ring, with pavé set shoulders and pink pavé diamonds on the band. Thought to have cost $100,000.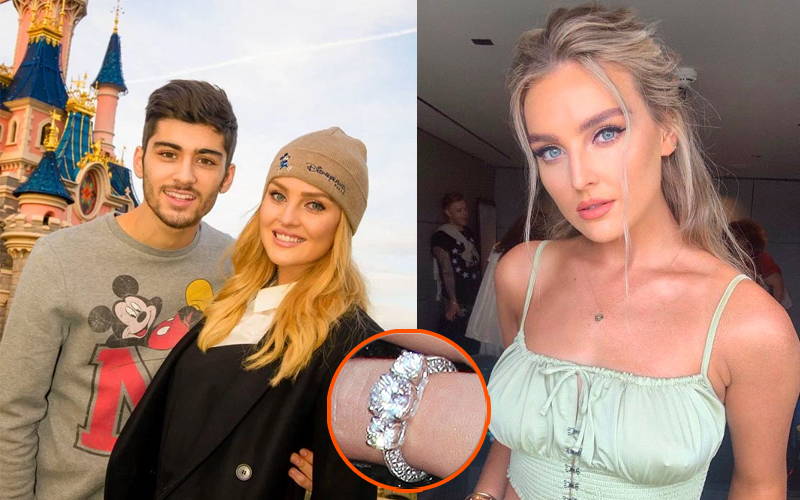 PERRIE EDWARDS - ZAYNE MALIK

The ring - A 2.5-carat round brilliant diamond with a smaller 0.75-carat on either side. Secured by a traditional 4 claw setting onto a milgrain band.
Price: Estimated to have cost £30,000.
The couple didn't make it down the aisle, but this trilogy ring is still one of our favourites for inspiration. The mixture of a timeless design with a vintage style band adds a unique twist.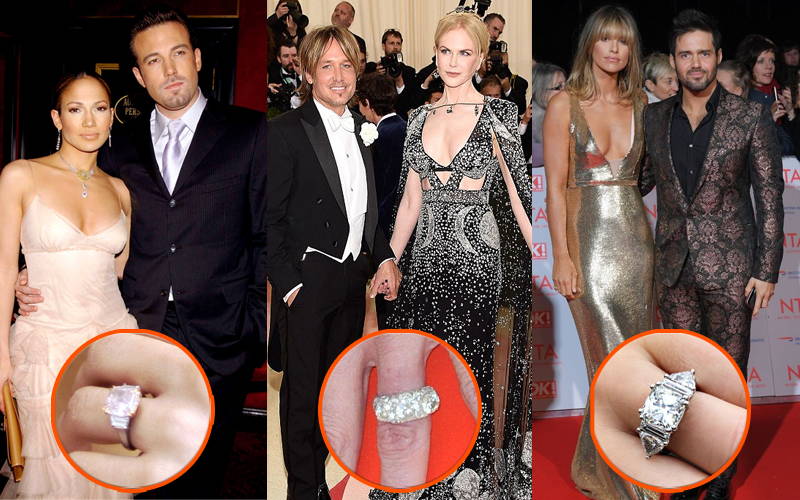 OTHER FAMOUS TRILOGY ENGAGEMENT RINGS

J-Lo - Ben Affleck - Credited for sparking two major engagement ring trends of the 21st century, trilogy and coloured diamonds, J-Lo's 6.10-carat radiant pink diamond is still one of the most talked about engagement rings two decades later.
Nicole Kidman - Keith Urban - Worth an estimated $50,000, Nicole Kidman's vintage three-stone diamond engagement ring makes a bold statement.
Vogue Williams - Spencer Matthews - Thought to be 4 to 5-carats and worth £150,000, Spencers' inspiration for the ring design came from Vogue's love of bridges.
FOOTBALLER'S ENGAGEMENT RINGS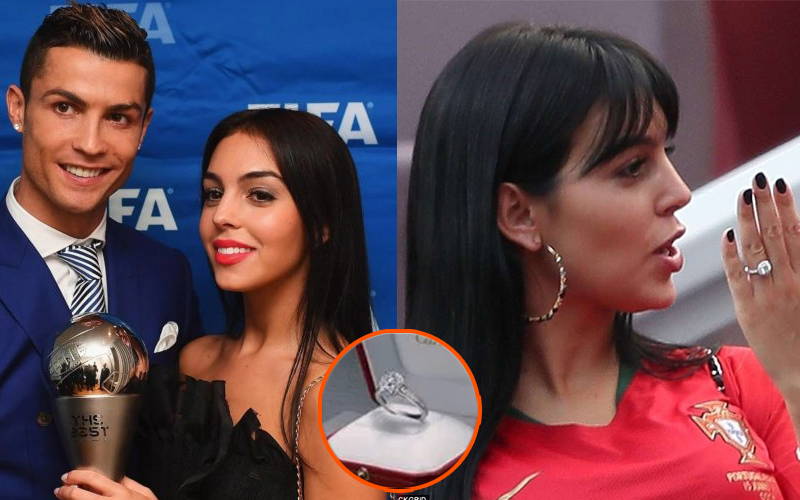 GEORGINA RODRIGUEZ - CRISTIANO RONALDO

The ring - An emerald solitaire diamond.
Price - $615,000.
Engaged - Summer 2019.
… That's pretty much all we know.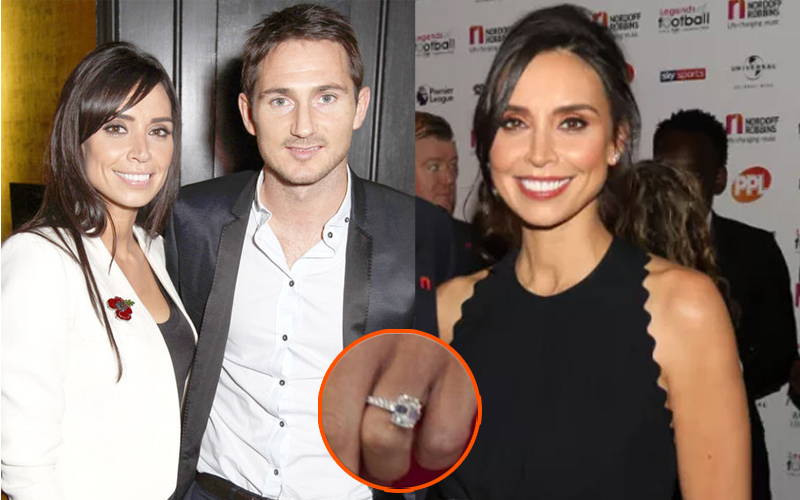 CHRISTINE BLAKELY - FRANK LAMPARD

The ring - A round brilliant solitaire clear diamond, set onto a platinum band with clear pavé diamonds.
Price - Estimated to be worth £120,000.
The proposal - Chelsea manager Frank Lampard spent 3 months planning his proposal to TV presenter Christine Bleakly. Even flying his friend out to L.A ahead of them with the ring in order to keep it a secret for when he popped the question.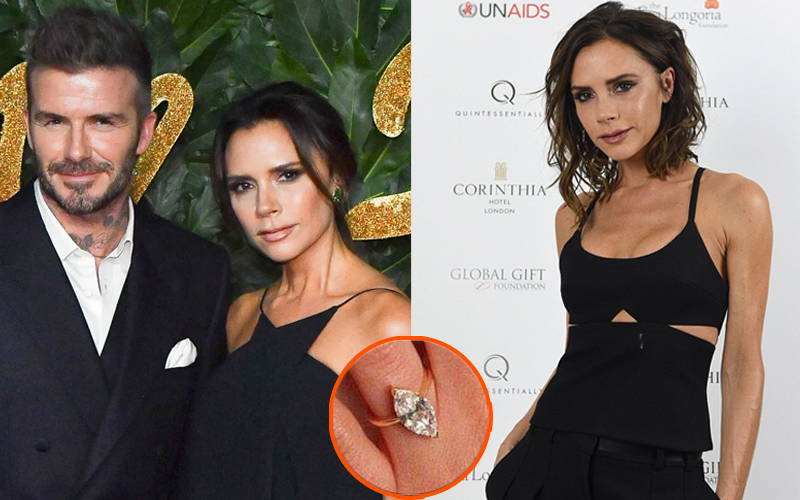 VICTORIA BECKHAM - DAVID BECKHAM

The ring - A 3-carat marquise diamond set onto a yellow gold band. David proposed with this beauty in 1998.
Price - The ring reportedly cost $85,000 at the time.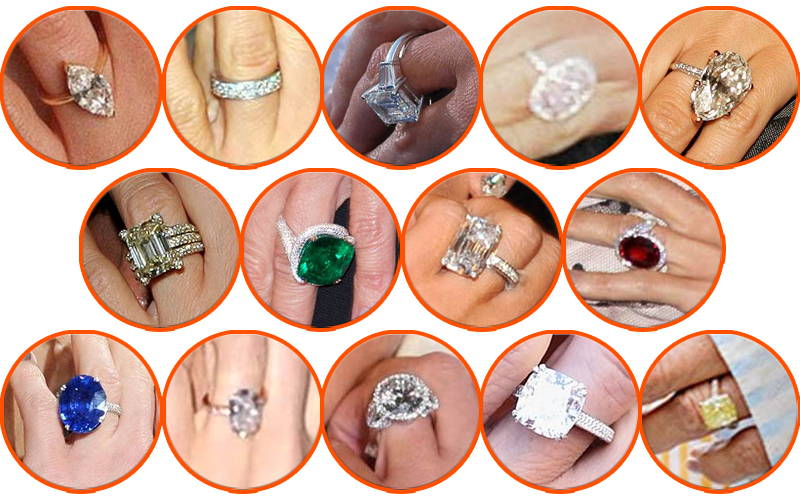 VICTORIA BECKHAM'S OTHER FAMOUS ENGAGEMENT RINGS

Victoria Beckham has a whopping 14 engagement rings and the amazing thing is … We're not actually surprised. If anyone were to, it would be old Posh Spice, wouldn't it. She's a Queen in fashion and her jewellery collection has to hold up to this title. Some are from David while others are treats from Posh, to Posh, because she can.
LEFT - RIGHT
1998, Victoria's original engagement ring from David Beckham.
2001, While not technically an engagement ring, we're still counting this platinum set eternity ring.
2003, Emerald shaped diamond with side baguettes, set onto a platinum band.
2004, David gifted Victoria a $1.1 million pink champagne diamond with a halo of clear diamonds, set onto a pavé band for her 30th birthday.
2005, David topped his own previous gift with a 17-carat pear diamond, set onto a pavé band.
2006, Her next ring was an emerald yellow diamond, enhanced by a yellow gold pavé band.
2007, Fancying a bit of colour, VB bought a cushion emerald with a platinum spiral setting and pavé band.
2008, A 15-carat emerald diamond, again set onto a pavé band.
2009, An elegant oval ruby mounted onto a clear diamond halo and pavé band.
2010, A clear fan of precious gemstones, Victoria completed her gemstones set with a oval sapphire on a thin pavé band.
2010, An eye-catching oval pink diamond, set onto a yellow gold band with pavé diamonds.
If there's any occasion in your life where you should feel like royalty, it's your engagement and wedding day. So there's no way we could miss out some of the most iconic engagement rings in history, whether they're British royalty, or Hollywood royalty. Take inspiration from these rings if you're after a fairytale happy ever after.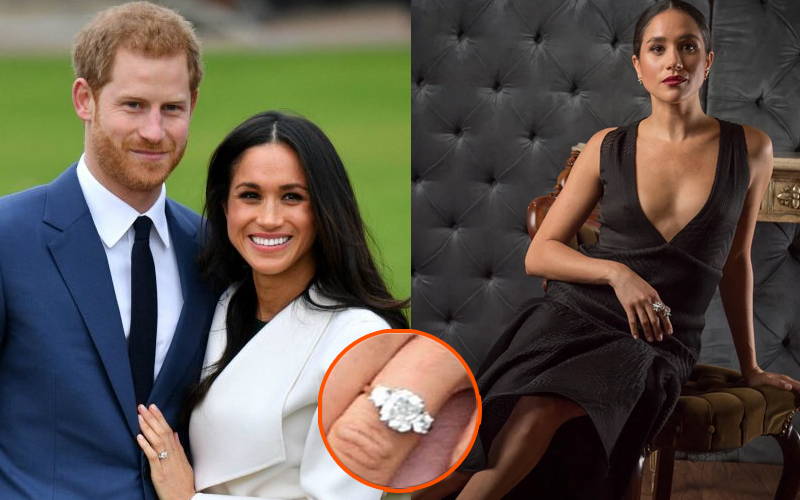 MEGHAN MARKLE - PRINCE HARRY

The ring - A 3.5-carat cushion centre stone diamond, with a 0.75-carat round brilliant diamond on either side. Meghan stopped wearing her engagement ring during her pregnancy and when it was seen again, the band had been updated from yellow gold to a pavé design.
The design - Prince Harry designed the ring himself, choosing a centre stone from Botswana, a "special place" to them, and two diamonds from Princess Diana's collection.
Tip for proposing to a Markle fan - The 3 stones of a trilogy ring are known to stand for both the past, present and future, as well as friendship, love and fidelity in your relationship.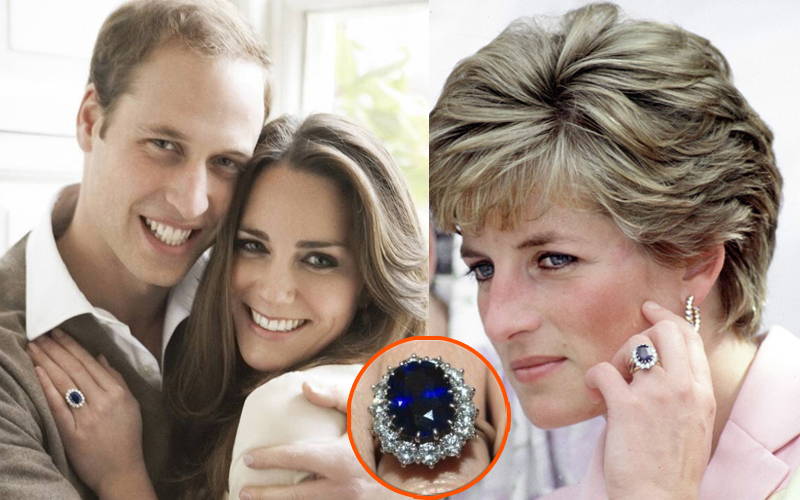 PRINCESS DIANA - PRINCE CHARLES And KATE MIDDLETON - PRINCE WILLIAM
The ring - A Sri Lanken 12-carat oval blue Ceylon sapphire, with cut facets to draw in light. Surrounded by a halo of 14 solitaire diamonds and set into an 18-karat white gold band.
Price - The iconic ring was originally valued at £28,000 and is now said to be worth £300,000. Though if it were to ever be auctioned, it's considered "priceless" due to its history.
The design - One of the world's most famous engagement rings of all time. Unusually, this royal ring wasn't a bespoke creation, it actually featured in Gerrard's jewellery collection and Diana chose it herself. When William was proposing, there was no other ring to be considered. And the future Queen of Britain, Kate, has been spotted wearing the eye catching ring many times.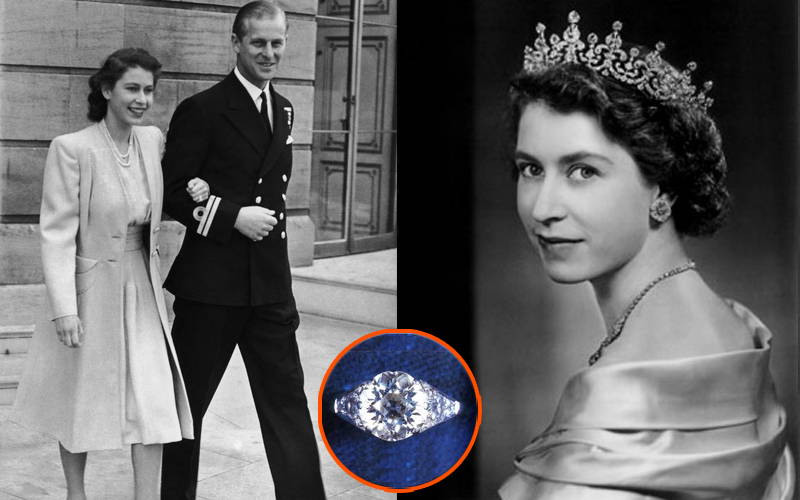 H.R.H QUEEN ELIZABETH II - PRINCE PHILIP, DUKE OF EDINBURGH

The ring - A 3-carat round diamond in the old cut design, with a traditional 8 claw setting, and diamond shoulders set into a platinum band.
The story and design - This stunning engagement ring has been on the Queen's finger for an incredible 72 years and has quite a romantic story - Prince Philp's Greek royal family wasn't as well off as you'd think, his father left when he was young and Philip, his mother and his siblings were forced to flee his homeland due to war. So, when it came to proposing to Princess Elizabeth ||, his mother, Princess Andrew of Greece, stepped in and offered the jewels from the tiara she was given on her wedding day. Prince Philip designed the engagement ring himself, with the help of jeweller Philip Antrobus.
For the future heir to the British throne, the size of the centre stone was considered modest. But this fitted well with the personalities of both Philip and Elizabeth, the princess who saved ration coupons for her wedding dress and it's thought that Philip considered the mood of Britain in the wake of WW||.
Tip for proposing to your future King or Queen - It's not always about what you have, but what you're willing to give and how meaningful you make it. Be like Prince Philip and make it sentimental with a bespoke design. A true representation of your love is a strong symbol, and one that's going to get you a "Yes! - Till Death Do Us Part".
---